March 2018
» Next Entries
An ORCID iD is your lifetime author identifier that connects all aspects of your research career, no matter how often or where you move, or if your name changes for any reason. Database searchers worldwide will find your complete body of work, connecting you to potential co-authors, new opportunities, award nominations, or speaking invitations. Once your ORCID iD is registered, use Scopus to perform an author search and export all your publications to your ORCID account using these instructions. This will also connect the two systems for automatic updates. Read more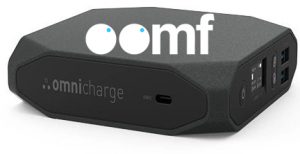 Finding a power outlet can be tough, so why not bring a power source with you? Falk Library now has two Oomf Omnicharge stations in the library. This is a free technology loan program that works with the Oomf app to borrow a charging pack for 24 hours. Read more
On February 1-2, 2018, four visitors from the National Library of Medicine conducted a site visit with staff from the National Network of Libraries of Medicine, Middle Atlantic Region (NNLM MAR), and the NNLM Web Services Office (NWSO). Both NNLM MAR and NWSO are based at HSLS and are funded from 2016-2021 as part of a cooperative agreement with the National Library of Medicine.
The site visit team included Amanda Wilson, head, National Network Coordinating Office; Alan Vanbiervliet, program officer, Extramural Programs; and Franda Liu and Nichelle Midon, project scientists, National Network Coordinating Office. Read more
Below is a list of those generous people who have made donations to the library in 2017. With the support of these thoughtful people, HSLS can continue to provide essential resources to enhance the quality of health care in western Pennsylvania and beyond.
Ms. Patricia W. Bookamyer
Dr. Nancy Breslen
Mr. Arnold and Mrs. Barbara Epstein
Dr. Carol E. Roach Mattes
Ms. Maureen K. Perrino
Dr. Elizabeth A. Schlenk
Dr. John B. Schumann and Mrs. Maria Pimentel-Schumann
Dr. Frederick J. and Mrs. Nancy Tannery Read more
Fatigue is a persistent problem for EMS providers. Over half report work-related fatigue, creating potential hazards for their patients as well as drivers who share the road with them. But there have never been any credible recommendations to mitigate risk. Read more
Camillo Golgi (1843-1926) was an Italian pathologist associated with the University of Pavia, where he studied and worked as professor of histology, chair of pathology, and dean and rector of the University. He is known for his work on the central nervous system, for which he was awarded the Nobel Prize in Physiology or Medicine in 1906, and which he shared with Santiago Ramón y Cajal.
While studying at the University of Pavia, under the influence of Cesare Lombroso, Golgi started his scientific career researching mental diseases, but quickly abandoned psychiatry in order to study the structure of the nervous system. Though tissue staining techniques in histological research were introduced in the mid-19th century, they were not sophisticated enough for investigating the nervous system. Golgi started his search for a better technique and ultimately discovered staining using potassium dichromate and silver nitrate (mentioned by him in 1873). This revolutionary technique of "black reaction," later named after him (Golgi staining or Golgi impregnation), allowed for the first time a clear visualization and description of nerve cells. This discovery was a critical point in the development of modern neurology. Though Golgi himself could not see beyond the "reticular theory" (the belief that the nervous system consists of nervous fibers forming an intricate but continuous network), his work led to the establishment of neurons as a basic cell unit of the nervous system. He will be remembered as a man who pushed neurological research forward. Read more
The HSLS Staff News section includes recent HSLS presentations, publications, staff changes, staff promotions, degrees earned, etc.
News
Donna Perkins has been promoted to Web Editor and will continue assisting at the Main Desk. She previously was working nights and weekends, but will now be working Monday through Friday during the day.
Brendan Vaughan has joined the HSLS staff as a library specialist. In his new position, he will be working at the Main Desk and will provide customer service. Read more
» Next Entries