October 2016
» Next Entries
You've collected your data—now what? Having a basic set of data visualization skills will enable you to effectively communicate their significance. From understanding how your audience will interpret a bubble chart on your conference presentation to having proficiency with data visualization software packages, there is a wide variation in levels of mastery. Read more
Newly minted University of Pittsburgh Master's and Doctorate holders may receive an e-mail from Lambert Academic Publishing, offering to publish your thesis or dissertation as a book. While this sounds flattering, there is no real advantage to taking up the offer. Read more
HSLS is pleased to announce the availability of three new resources to help researchers analyze their biomedical data, and the renaming of one familiar tool.
Key Pathway Advisor (KPA) is a workflow tool that uses MetaCore content to simplify "omics" data analysis, perform causal reasoning network analysis and apply a comprehensive pathway analysis workflow, enable gene expression and gene variant data integration, and generate interactive structured reports for further analysis or sharing. Read more
HSLS presents a new exhibit with a numismatic twist, The Ultimate Service Pin, a History of Nursing, by Dawn McBride. The author is a Clinical Research Project Manager at the University of Pittsburgh where she is also a nurse and collector at heart. She gives viewers a glimpse of nursing history through her collection of nursing pins and coins featuring nurses and nursing related symbols. Read more
NCBI's new PubMed Journals allows you to follow journals in your field, browse new articles, and much more.
PubMed Journals is easy-to-use:
Direct your browser to the PubMed Journals home page.
Select a journal title to browse.
Click the "Follow" button to add to your personal list.
To follow a journal, you'll need to be logged into your NCBI account. Read more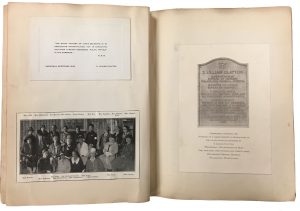 The idea of preserving memories, special moments, and histories in albums using scraps such as prints, bookplates, quotes, poems, calling cards, paper cutouts, press clippings, and photographs is not a new concept. In the United States, with the invention of photography and the appearance of a variety of patented photography and scrapbook albums, scrapbooking gained popularity in the 19th century. Today's renewed interest in genealogy keeps the art of scrapbooking alive. Read more
» Next Entries